Our first SFB 1381 symposium "Dynamic Organization of Cellular Protein Machineries" was held from March 9-11, 2022 in an online format. With 21 internationally renowned speakers, scientific presentations from six SFB PIs, a Young Investigator Session and around 150 participants, the symposium presented the newest developments in protein machinery research and provided a stimulatory atmosphere with inspiring scientific discussions.
Over the course of 2.5 days we met online to listen to the latest research from external speakers that were connected from all over Europe and Australia and that all share a common interest: the investigation of complex protein machineries, their assembly and their functional regulation. The versatile external speakers' list was complemented with presentations by six SFB PIs that showed their recent findings from our SFB.  In the "Young Researchers Session" the SFB 1381 PhD students had invited the guests and also chaired the session. In a special Flash Talks session four young researchers, whose talks were selected from a number of submitted abstracts, were presenting their own scientific projects and also these short presentations were followed by a lively discussion. The scientific questions after each presentation were often so numerous that they exceeded the available time and were therefore frequently continued in the chat.
We thank all speakers, the chairs and the participants for great presentations and inspiring discussions!
Here are some impressions and the program: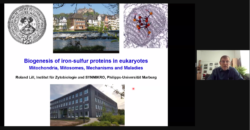 Prof. Dr. Roland Lill from Marburg University gave the keynote about his scientific endeavor to identify the many components of the iron-sulfur cluster biogenesis machinery and the still ongoing task to understand the molecular mechanisms.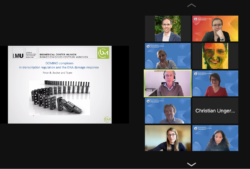 Prof. Dr. Peter Becker from Munich presented his research on epigenetic modifications that are carried out by multi-protein assemblies.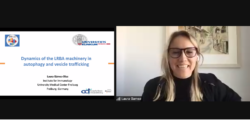 Dr. Laura Gámez-Díaz, the SFB 1381 Young Investigator Grantee, during her presentation of the dynamic regulation of the LRBA machinery and its role in autophagy and vesicular trafficking.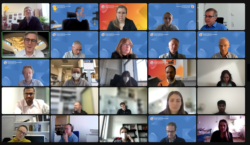 All presentations were followed by extensive scientific discussions and often continued in the chat.