We welcome you to the first international CRC 1381 symposium on "Dynamic Organization of Cellular Protein Machineries".
The goal of the CRC is to better understand how protein machineries are assembled during biogenesis, how they are organized in modular (sub-)assemblies and how the dynamics in assembly and organization and their regulation are used for precise operation of cellular functions. Questions the CRC is addressing and which will be discussed at the meeting with leading scientists in the field.
At this symposium invited international speakers will present their work along with Freiburg researchers from the CRC 1381.
The symposium is free of charge, however, registration is required. Early-career scientists are especially encouraged to submit an abstract for the poster session.
We are very much looking forward to an inspiring meeting in Freiburg!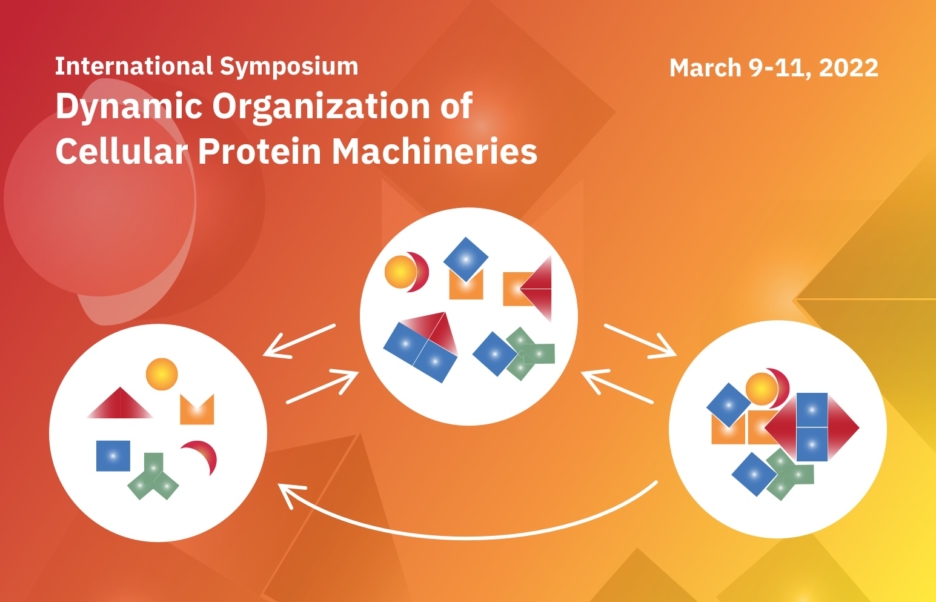 Keynote Speaker:
Confirmed Speakers:
Nenad BAN (Zürich)
Peter BECKER (Munich)
Melanie BLOKESCH (Lausanne)
Ulrich BRANDT (Nijmegen/Cologne)
Ariane BRIEGEL (Leiden)
Bernd BUKAU (Heidelberg)
Sabrina BÜTTNER (Stockholm)
Elke DEUERLING (Konstanz)
Ivan ĐIKIC (Frankfurt)
David HASELBACH (Vienna/Freiburg)
Ramanujan HEGDE (Cambridge)
Ulrike KUTAY (Zürich)
Thomas MEIER (London)
Martin OTT (Stockholm)
Mike RYAN (Melbourne)
Irmgard SINNING (Heidelberg)
Anne SPANG (Basel)
Christian UNGERMANN (Osnabrück)
Einat ZALCKVAR (Rehovot)
---
Program
09.03.2022
Registration and Opening of the Meeting

01:00 pm

Registration

03:00 pm

Chris Meisinger

Opening of the Meeting

Session I: Protein Machineries in Proteinsynthesis and Quality Control I

Chair: tba

03:10 pm

Ivan Đikic

03:40 pm

Elke Deuerling

04:10 pm

Bernd Bukau

04:40 pm

tba

05:10 pm

Coffee Break

Keynote Lecture

Chair: Chris Meisinger

06:00 pm

Roland Lill

07:00 pm

Reception and Poster Session
10.03.2022
Session II: Protein Machineries in Proteinsynthesis and Quality Control II

Chair: tba

09:00 am

Ramanujan Hegde

09:30 am

Christian Ungermann

10:00 am

Sabrina Büttner

10:30 am

Coffee Break

Session II: Protein Machineries in Proteinsynthesis and Quality Control II

Chair: tba

11:15 am

Martin Ott

11:45 am

tba

12:15 pm

David Haselbach

12:45 pm

Lunch Break

Session III: Protein Translocation Machineries

Chair: tba

02:00 pm

Ulrike Kutay

02:30 pm

tba

03:00 pm

Anne Spang

03:30 pm

Coffee Break and Poster Session

Session IV: Protein Machineries in Epigenetics

Chair: tba

05:00 pm

Peter Becker

05:30 pm

tba

06:00 pm

tba

07:00 pm

Speakers' Dinner
11.03.2022
Session V: Assembly of Redox Machineries / Organization of Respiratory Complexes

Chair: tba

09:00 am

Ulrich Brandt

09:30 am

Mike Ryan

10:00 am

Thomas Meier

10:30 am

Coffee Break

Special Session: Speakers invited by SFB1381/SGBM PhD students

Chair: Arpita Nandy (students representative)

11:15 am

Nenad Ban

11:45 am

Einat Zalckvar

12:15 pm

tba

12:45 pm

Lunch Break

Session VI: Protein Machineries in Proteinsynthesis and Quality Control III

Chair: tba

02:00 pm

Irmgard Sinning

02:30 pm

tba

03:00 pm

Coffee Break and Poster Session

Session VII: Dynamic Prokaryotic Protein Machineries

Chair: tba

04:00 pm

Melanie Blokesch

04:30 pm

Ariane Briegel

05:00 pm

tba

Final Remarks

05:30 pm

Chris Meisinger
Scientific program committee
Asifa Akhtar
Sonja-Verena Albers
Oliver Einsle
Chris Meisinger
Sabine Rospert
Nora Vögtle